2023.06.29
New buddy "Astro Assistant" available!
Thank you for playing Forestopia.
In ver1.9.0, new buddy "Astro Assistant" has been available!
■ Additional buddy■
Astro Assistant:700 Gems
5% chance to double the amount of rewards earned in "Explore Starry Sky" with the "Star Telescope".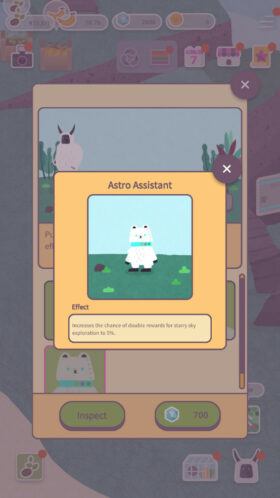 *The probability of the effect occurring increases as the level of the buddy is raised.
Lv.1: 5%
Lv.2: 7%
Lv.3: 10%
Lv.4: 15%
Lv.5: 20%
Please check here for the details of "Star Telescope".
■ Note ■
Viewing an ad with a buddy effect doubling the reward will further increase the amount of reward earned.
The contents of the announcements are subject to change without notice.
Enjoy your Forestopia life!